Back to all posts
Posted on
Tailgate Meet and Greet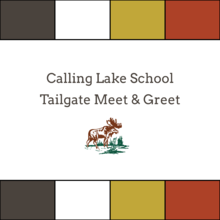 Calling Lake School is hosting a Tailgate Meet and Greet! The event is taking place on: 
Dates:
Tuesday, September 1st, Wednesday, September 2nd, Thursday, September 3rd.
Time: 
4:30 p.m. - 6:30 p.m.
Come meet the new Principal Jason Wiks! Mr. Wiks is available to discuss the Calling Lake School re-entry plan for the new school year. 
Location: 
Enter from the south end of the parking lot and drive up to the red truck.