Back to all posts
Posted on
Jason Wiks appointed Calling Lake School Principal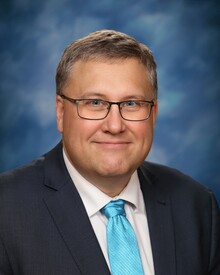 Northland School Division (NSD) is pleased to announce the appointment of Jason Wiks as Calling Lake School Principal. Mr. Wiks joins the Northland family after serving four years as Associate Principal at R.F. Staples Secondary School. 
"I look forward to working with the students, parents, staff and the community in Calling Lake to create a positive learning environment," said Wiks. "We will continue the many excellent programs at Calling Lake School and work together to get better every year. I will be moving to Calling Lake in August and I hope to meet as many families as possible before school starts in September. Have a great summer and I will see you all in the fall."
"I am excited to have Jason join the Northland team," said Dr. Nancy Spencer-Poitras, Superintendent of Schools. "His experience and commitment to offering engaging and innovative learning projects for students, will enhance programming for the students of Calling Lake and Northland School Division."
Jason's career in education started overseas in 1994. Over a three year period, Mr. Wiks worked in South Korea and Turkey. In Canada, he has accumulated a lot of experience working with Indigenous and rural communities in Saskatchewan and Alberta. 
In 2001, Jason joined the Alberta Distance Learning (ADLC) team as a teacher, project coordinator and an associate principal. During his 14 years with ADLC, he was part of the team that developed innovative learning projects for students across the province. Projects include dual credit programming, online/face to face forestry related courses through a partnership between Woodland Operations Learning Foundation (WOLF) and ADLC and an app created to offer high school entrepreneurship courses. 
After 12 years at ADLC, Jason moved back into a more traditional teaching role at Pembina North Community School. From 2014-2016, Mr. Wiks established a junior high program with a dedicated focus on numeracy and literacy. Over a two year period, the school piloted the new Career and Technology Foundations (CTF) program. In addition to his innovative work at ADLC, Jason spent a few summers working in partnership with Rupertsland Institute, InRoads Mountain Sport and Vista Virtual School to deliver programming for Métis youth focused on environmental science, forestry and eco-tourism.
Jason's education includes a Master's Degree in Distance Education and an Advanced Graduate Diploma in Distance Education Technology from Athabasca University and a Bachelor of Education from the University of Saskatchewan.