District Emergency
School closures due to Evacuation Orders
School Closures due to wildfires
Career Pathways School, Wabasca Alberta
Mistassiniy School, Wabasca Alberta
St. Theresa School, Wabasca Alberta
Chipewyan Lake School
Pelican Mountain School (Sandy Lake)
Paddle Prairie School: Closed for the remainder of the 2018-2019 school year.
Any decision regarding school operations will be announced once more information becomes available.
Evacuation Orders
Sunday, May 26, 2019, at 6:00 p.m.: Paddle Prairie Métis Settlement
Re-entry for communities previously under Evacuation Order
Wednesday, June 12, 2019: Phase 3 Re-entry (Return of Residents) for Wabasca-Desmarais, Sandy Lake and Chipewyan Lake. The threat of wildfire still exists for the above-mentioned communities. As a result, a four (4) hour Evacuation Alert will remain in effect.
Question and Answer page for students, parents, staff impacted by the wildfires
Click here to view the Question and Answer page.
School News
Heritage Day Festival 2018
Posted on

May 31st, 2018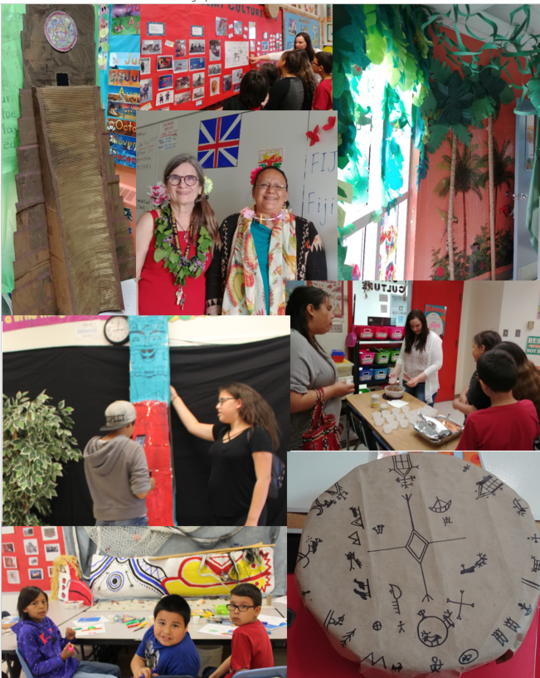 Calling Lake School hosts Annual Heritage Day Festival
Our theme this year was "Indigenous peoples around the world"
Calling Lake Staff and students would like to extend a thank you to Kim Reck, PED Supervisor. Kim offered to assist classes and volunteered to write up an article on her experience at Calling Lake Schools Heritage Day festival. Thanks to all the parent volunteers that came out to help! Parents help to make learning fun at Calling Lake School. Hiy Hiy
written by Kim Reck- Calling Lake School hosted its annual and highly enjoyable Heritage Fair today at the school- students traveled through Indigenous Cultures of the world from the Mayan to the Fijians of Fiji without even taking flight from Calling Lake School!
Thanks to all the teachers, students and volunteers- it was a tremendously well received event with engaged students and staff getting to explore various people, their culture, language, traditions and foods. Students and staff began to realize that these far away folks shared many similar customs that we honour right here in Calling Lake!
The ECS class hosted the Mayan civilization of Mexico with students trekking through the Mighty Jungle before resting near the ruins of Tulum and enjoying tortilla chips and dip with traditional green juice.
From the Mayans, the students may have visited with the grade 1/2 class or the Navajo people known as the Dine (pronounced Dene) and created either beautiful weaves or art work in sand. Interesting how their flat bread tastes very much like our bannock!
Another great stop was to the Maori people of New Zealand ​in the grade 2/3 class. Kia Ora (hello) from Aotearoa (New Zealand – literally – Long white cloud)
Some students and staff may have seen the Haka which the class showcased for some spectators and soon it was noted how their dance sounded and resembled some of the dances we might see at Pow Wow! The Haka "Ka Mate Ka Mate" is a Maori war dance.
The grade 4/5 class showcased information about the Sami- Indigenous people from Northern Europe- Norway, Sweden, Finland and Russia. The Sami are traditional hunters of the reindeer and are very clever using all parts of the reindeer from food, tools, drums and clothing.  I bet we could swap info about how we use all parts of the moose with this sister tribe!
We traveled to Mongolia via the grade 6/7 class to meet with the Mongolians and learned that the yurt of these nomadic people is as portable as the tepee! Mongolians like many First Nations and Métis people enjoy berry picking!  Today students, staff, volunteers and visitors sampled tasty goat cheese and blueberries.  Yum!
The grade 8/9 class showcased The British Columbia Natives. With so many Aboriginal groups similar in traditions they could not pick just one. Students researched and created displays showcasing similarities and differences of the various tribes in this region. The Aboriginal groups in this coastal area included the Haida, Coast Salish, Kwakwaka'wakw, Gitxsan, Tsimshian, Nisga'a and other Pacific Northwest Coast cultures. Students used their creativity and created a coastal theme with an authentic canoe and totem pole using cardboard and plaster. Students of all grades got to create their own mini totem poles and sample smoked salmon and mint tea while listening to traditional Salish drum music.
The grade 10-12 classes showcased the Fijians of Fiji- these environmentalists sound just like us- traditionally they live off the land and are wise to creating their food , shelter and clothing from the gifts of the earth! Students got to create floral leis/ neck garland which were seen throughout the day by all passport bearers at the school​.​
Thank you again to everyone for another successful Heritage Fair!
please check out the photos