School News
Calling Lake School host Heritage Day
Posted on

May 22nd, 2017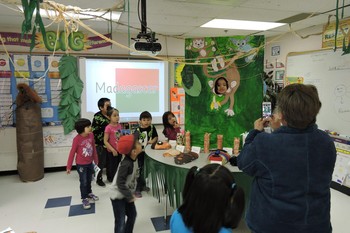 Calling Lake School hosted its 2nd Annual Heritage Day! The event allows students to explore various countries they may never get to see in real life. Prior to Heritage Day, students with support from school staff studied a country's people, food, animals along with traditions and eventually created a classroom display for tourists (students, staff, parents and community members). 
Examples of displays: 
Calling Lake School Cree Teacher Sylvia Gladue teacher, had life size cutouts of RCMP and Indigneous Peoples as part of her display to greet visitors into Canada. 
Grade 4 students created an display of Egypt. They had a life size tomb and a mummy of King Tut. Students also learned how to write their name using Egyptian Hieroglyphic Alphabet. 
Grade 5 students presented Madagascar. They transformed their classroom into a jungle complete with Baobabs (Madagascar trees) waterfalls, and vines strewn throughout the class.
Grade 5 students also researched various African masks and art projects and created masks using plaster.
Grade 8 students wore traditional Mongolian outfits.   
On the morning of Heritage Day, tourists were given a passport to visit each country display! At lunchtime, everyone had a chance to experience "A Taste of World" in the gym. Some samples include:
Ukraine: perogies
Egypt: hummus
Japan: noodles
Madagascar: sweet fruit salad marinated in vanilla syrup
Canada: Bannock
Ireland: ECS students offered samples of Irish Stew and green punch
Special thank you to various volunteers who made this event possible! Thank you!