District Emergency
School closures due to Evacuation Orders
School Closures due to wildfires
Career Pathways School, Wabasca Alberta
Mistassiniy School, Wabasca Alberta
St. Theresa School, Wabasca Alberta
Chipewyan Lake School
Pelican Mountain School (Sandy Lake)
Paddle Prairie School: Closed for the remainder of the 2018-2019 school year.
Any decision regarding school operations will be announced once more information becomes available.
Evacuation Orders
Sunday, May 26, 2019, at 6:00 p.m.: Paddle Prairie Métis Settlement
Re-entry for communities previously under Evacuation Order
Wednesday, June 12, 2019: Phase 3 Re-entry (Return of Residents) for Wabasca-Desmarais, Sandy Lake and Chipewyan Lake. The threat of wildfire still exists for the above-mentioned communities. As a result, a four (4) hour Evacuation Alert will remain in effect.
Question and Answer page for students, parents, staff impacted by the wildfires
Click here to view the Question and Answer page.
School News
Calling Lake School host 3rd Annual Science Fair
Posted on

June 18th, 2018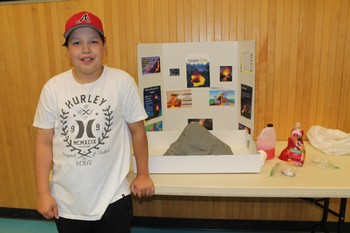 Calling Lake School was overrun with young scientists who eagerly spent the day showcasing their projects, presentations, and demonstrations for the school community to enjoy. The school hosted its 3rd Annual Science Fair on June 14, 2018. 

Why is it important for students to participate in science fairs? Besides being heaps of fun, there is loads of learning taking place. A student chooses a scientific question he or she would like to answer. Then, through the library and or the Internet, the student gets to research the question plus gain some background information he or she needs in order to formulate a hypothesis and design an experiment.
After writing a report to summarize this research, the student performs the experiment, draws his or her conclusions, and presents the results to teachers and classmates using a display board during the school science fair. The students get to share additional skills like speaking, answering questions, presenting plus their artistic flair as featured on their display board! Impressive, right? 
Thanks to all participants who contributed to this year's science fair event. Some created their projects in class while others constructed them at home with family support. Thank you, parents and teachers, for your encouragement, help, and guidance in bringing it all together. It was a fun-filled afternoon of amazing scientific discovery from creating rainbow paper to lava lamps to witnessing eruptions from not one but two volcanoes, learning about the benefits of sleep along with challenging states of matter- was that a liquid or a solid that we touched this afternoon while at the Oobleck station? 

Congratulations to all for an innovative afternoon of science exploration! 
Click here to view the photo gallery!